Menlo Atherton Adult Women's Soccer League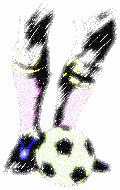 The Menlo Atherton Adult Soccer League (MAASL) is a non-profit soccer league for women 23 years and older. We are based in beautiful Menlo Park, California and welcome players of all ability levels. The emphasis of our league is on getting fit and having fun.

We play two season per year: mid March through early June, and September through mid-November. Games are held on Saturdays and Tuesday and Thursday evenings (light permitting) at Burgess and Willow Oaks parks. All games are officiated by paid referees.

IMPORTANT! To stay informed about schedule changes, rain-outs, special events, application due dates, etc., all participants should subscribe to MAASL's Google Group (use the form below).
Announcements
-- The Spring 2013 rosters and schedule are finalized and posted.
-- Players can now purchase merchandise that is customized with the MAASL logo such as apparel (men's, women's, and baby), hats, mugs, mousepads, etc. Click the Buy MAASL Gear link in the left-hand navigation bar to start shopping! A portion of each sale helps support our league.